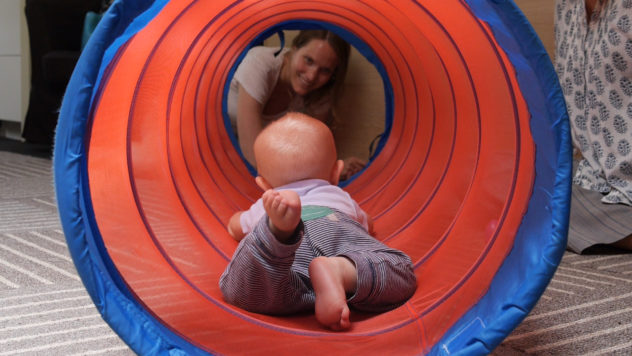 "My Favorite Movement Class for Babies"
– Child Grows In Brooklyn 2011
An interactive joyful class for baby and parent/caregiver utilizing song, yoga, play, massage, dance, and breath work with a variety of stimulating props, instruments, and activities. GoGo Babies® classes are designed with the development of babies and their particular needs in mind. Activities are created to nurture and foster their growth while honoring their process and individuality. GoGo Babies® classes give caregivers confidence, knowledge, and support to support self esteem and self awareness while encouraging deepening bonding and attachment.
nurture babies developmental path from birth to standing vertical and walking
stimulate sensorimotor systems
enhance visual and auditory development
develop social and emotional skills
support healthy digestion and sleep
Increase comfort and duration of Tummy Time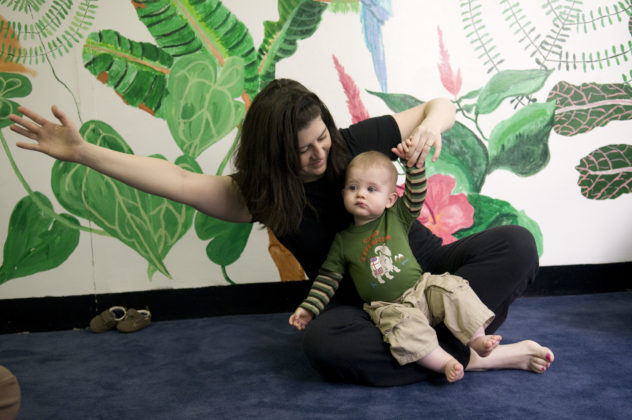 ---
Check our schedule for upcoming classes & workshops.
Reviews
We both enjoy… and progress!
Candice on Jul 31, 2017
My son and I first took Go Go Babies when William was 4 months old. After a demanding apartment move we took some time off, however I found myself wanting to get back and make the longer trip just so that we can take the class again. William was a little slower to get moving, so I knew he would benefit from this class again at 15 months old. Even though if he was older than the other babies he was physically on the same level. Ellynne made me feel extremely comfortable about this and he progressed so much during the course of the class. I enjoy the class as well because Ellynne is funny, keeps it fresh and allows me to reset from my day. I greatly recommend!
Wonderful class, wonderful teacher
Sara on May 10, 2017
We absolutely love this class, and i just signed up for the next session. Ellynne creates a warm, inclusive atmosphere, is very knowledgable about everything baby, and clearly loves the work she does. Our kiddo really responds to the class, and we use lots of what we learn at home. My boyfriend and I often talk about how much we look forward to going each week! There is a real sense of community and support in these classes that is wonderful for both baby and parents.
Love this class!
Jessica on Mar 22, 2017
This class has really helped my daughter Arianna gain confidence and become more independent. Arianna has a level of comfort in this class that I have not been able to find in other classes I have taken her to. We both look forward to class each week!
Exceeded our expectations!
Paige Brown on Mar 14, 2017
We signed up for Ellynne's classes thinking that we would learn some basics about tummy time and helping with our sons development, but the classes have turned out much more than that. Ellynne has a really beautiful and calm approach that encourages us to engage with our babies through full sensory interaction with song, touch and visuals. Our son has enjoyed the classes; seeing other babies and adults. My husband and I have also been able to enjoy the company of other parents and Ellynne's supportive and positive energy. It's been a great experience and one that I can't recommend enough.
Perfect Class for You and Your Little Ones
Sarah on Nov 22, 2016
My daughter and I have taken both Ellynne's level 1 and level 2 classes and they are amazing! I can't say enough good things about Ellynne. She cares so deeply about everyone in the room and takes the time to get to know every adult and baby to really be able to provide helpful advice and aprpriate activities. It is so much fun and my daughter loved every class. It was a great way to bond with my baby and learn ways to help her become strong and develop properly. I highly recommend any of Ellynne's classes. We traveled 45 minutes each week to get to them and it was worth every minute!!
GOGOGOGOGO GO! TO GOGO BABIES
Vashali on Oct 13, 2016
My son and I took ALLthree levels of the GoGo Babies classes, twice a week! Yes – we went TWO times a week because Ellynne creates a beautiful community that comes together with music and movement. We explored milestones (sitting, crawling, and walking) while becoming aware of many other developmental wonders (tracking/vision, smiling, clapping, etc.). Twice a week we "filled in the gaps" for our hyper-nuclear family (our family is far away/ my mom recently passed) with a rich educational foundation, warm space and Ellyne's loving spirit.
There is no other class as educational out there. Worries transformed to learning lessons and fears became bonding moments. Through teething, wonder weeks, and more … she inspired us to be the best parents we could. There are so many ways to engage in tummy time taught in her class. When our son began to stand, we were encouraged to enable cruising and he was walking before we knew it. We learned about countless resources, natural remedies, and now have so many lovely songs – that we still sing – to energize and center us for the day's next adventure.
Spouses, caregivers, and gradparents are welcomed with open arms!
A must take class!
Nicole on Jul 19, 2016
The only negative I have to say about this class is that I didn't have my daughter in sooner! I found Ellyne when my daughter was nearing her 11 month in life and hadn't hit any of the 'expected' movement milestones. With the guidance and professional knowledge of Ellyne she was crawling within a month. 9 months later not only is it a joy watching my now social-butterfly of an 18 month old partaking in, but the weekly 45 min interaction with the class is something I also look forward to for myself 🙂
Love it, love it, love it!!!
Tal Roth on Jul 07, 2016
We started going when Liam was a newborn, the classes are fun, interesting and very mommy child oriented. Not only does it add something fun to do during the day, but the amount of knowledge Ellynne has and the mental support is superb! Thank you Ellynne!!! See you next week!
Terrific class for little ones
Sarah on Jun 22, 2016
Ellynne's class is so much fun! The changes in development my daughter made from the beginning of the class to the end was really incredible. My daughter had to be in a Pavlik Harness due to hip dysplasia and Ellynne was really great at modifying exercises for us. By the end of the series she was out of the harness and starting to roll over! She also addressed challenges that each family was facing each week so the class felt very customized. It was so helpful to have activities that I could repeat at home and to show my husband. I really enjoyed this class and so did my little one. I highly recommend it!
Fantastic Classes!
Yasmin on Apr 12, 2016
My son and I took all three levels of the GoGo Babies classes, and for 15 months these classes were the anchor to my week. Week to week and level by level Ellynne helps you to identify and nurture the little and not so little milestones that make up your baby's path to sitting, crawling, and walking.
Ellynne fosters a sense of involvement, presence in the moment, and community which is unlike many of the other baby classes on the market. She engages babies and parents alike, and provides helpful parenting tips as well as the warm embrace so many of us need to make it through the week. You will leave her class happy, recharged, and able to carry on with your parenting journey.
Great class
Elizabeth Saiger on Jun 30, 2015
Really loved this class. Was a real highlight for me during my first 6 months of motherhood. I learned basics about development and fun games and tricks to do with my little daughter. It was a really wonderful class and I highly recommend it!
My baby Sienna and I learnt so much with Ellynne!
Lucy on May 13, 2015
My daughter Sienna started go go babies classes when she was 8 weeks old, we learnt so much in this class and had so much fun that we signed up for classes right up until we moved away from Williamsburg a couple of weeks ago. Ellynne really gives you great tips on things to do with your baby in class as well as out. The classes are very social, we met some amazing mums and babies in these classes who have become very close friends.
Ellynne – thanks so much for being part of Sienna's life since she was 8 weeks! We are missing your classes already, wishing you much success in the future 🙂 Lucy and Sienna (1 year tomorrow).
Fun for baby and mommy!
Lauren Ferguson on Apr 16, 2015
My daughter and I have been attending GoGo Babies classes for 6 months and it is absolutely one of the brightest parts of our week! I've watched my baby blossom developmentally and socially in Ellynne's class. I absolutely love how creative Ellynne is. She has taught me so many ways to play with and soothe my baby. The class is a blast for my little one and a support network for me. Ellynne creates a nurturing environment where babies can explore and grow. This is a well rounded class that I highly recommend.
Amazing
Mary Kate on Mar 16, 2015
My son went through all the levels of GoGo Babies because we loved it so much. It was an important part of his early growth as well as social development. Ellynne directs the class in a relaxed but structured routine, focusing on different issues the babies (or parents) are having each week. I still use many of the techniques in our daily routine, especially as we transition into the toddler years. The massage skills have saved many an afternoon when a rambunctious tot needs to calm down for nap time. I also met a great group of supportive families and that was very important as a first time parent.
Mind/Body connection to my baby
Jessica on Feb 16, 2015
Ellyne is expert at identifying physical solutions to parent/baby communication issues. I've gotten so many ideas for tummy time, engaging, and entertaining my new baby. I always walk out of class feeling like a better mother. 🙂 I've also grown to know and appreciate other new parents and their babies, and in most classes my daughter surprised me by doing something new. It's one of the things I miss most now that my maternity leave has ended, and it was a highlight of my week.
Favorite Class
Jasmine on Jan 23, 2015
My one year old daughter has attended Ellynne's class since she was a newborn. I signed up to help find ways to make tummy time more enjoyable for us and her. Ellynne is knowledgeable and compassionate, she shares her experiences graciously. We look forward to every class as it helped increase bonding, improve crawling and allows for an outlet to share triumphs and frustrations.
GaGa for GoGo Babies!
Elizabeth on Jan 23, 2015
It's been a joy to bring my five-month old baby to tummy time class! Elleyne creates a gentle nurturing, joyful environment that enhances the intimacy I already have with my son, and has transformed tummy time from an anxious, uncomfortable task to a pleasurable opportunity to connect. My baby has been showing more and more confidence as he strengthens and develops and I have been given many new ways to assist him. The gentle stretching, songs, and other activities also leave me feeling relaxed and rejuvenated after class. As a teacher, Ellyne is knowledgeable, experienced with many babies, and brings a good sense of humor to class. I highly reccomend GoGo Babies!